UPDATE: Second Teen Arrested After Police Find Multiple Firearms
CLYDE, TX – Clyde Consolidated Independent School District was placed on a short lockdown Friday morning after authorities feared a student might arrive with guns. 
According to KTXS, on January 10, the Clyde CISD sent out a text message to parent's warning them of the problem. 
"Clyde CISD is on a LOCK OUT due to criminal activity in the community that Clyde PD is actively investigating. The campuses exterior doors will be locked and no one will be allowed in or out at this time," said the notice. "We will keep everyone updated as we receive guidance from Clyde PD."
The Clyde Police Department then announced that the suspect of the criminal activity was a student from the school. Police claimed that the male student did not show up to school and he allegedly took some of his parent's guns. 
After 25 minutes, the school was released from the lock out and parents were notified. 
KTXS has reported that the suspect is in custody. 
UPDATE 12:56 p.m.: 
The Clyde Police Department has officially confirmed that a second juvenile has been arrested in relation to the incident earlier today at Clyde CISD. 
The first arrestee was a 14-year-old and the second was a 16-year-old. They are both charged with theft of a firearm.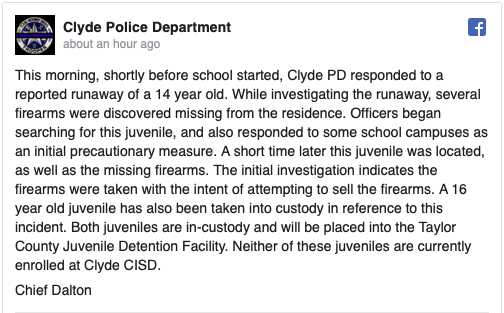 Get more stories like this by signing up for our daily newsletter, The LIVE! Daily.