San Angelo Fire Prevention Poster Contest Winners Announced
SAN ANGELO, TX — The Fire Prevention Poster Contest winners were presented at Rotary today. The San Angelo Rotary Club has always been the center of the annual tradition. Looking around the room today, however, was somber. City Fire Inspector Thomas Truett was there as only a spectator. He ran the poster program for 40 years, the final 15 years as a member of the San Angelo Rotary. Truett is moving away from San Angelo in a few months.
Two winning students and their parents were recognized. Here, San Angelo Rotary President and Angelo State University Dean of the Norris/Vincent College of Business Dr. Clifton Jones congratulates 5th grader Jordan Munden from Santa Rita Elementary and 4th grader Mary Cathryn Darby also of Santa Rita for finishing 1st place in their categories.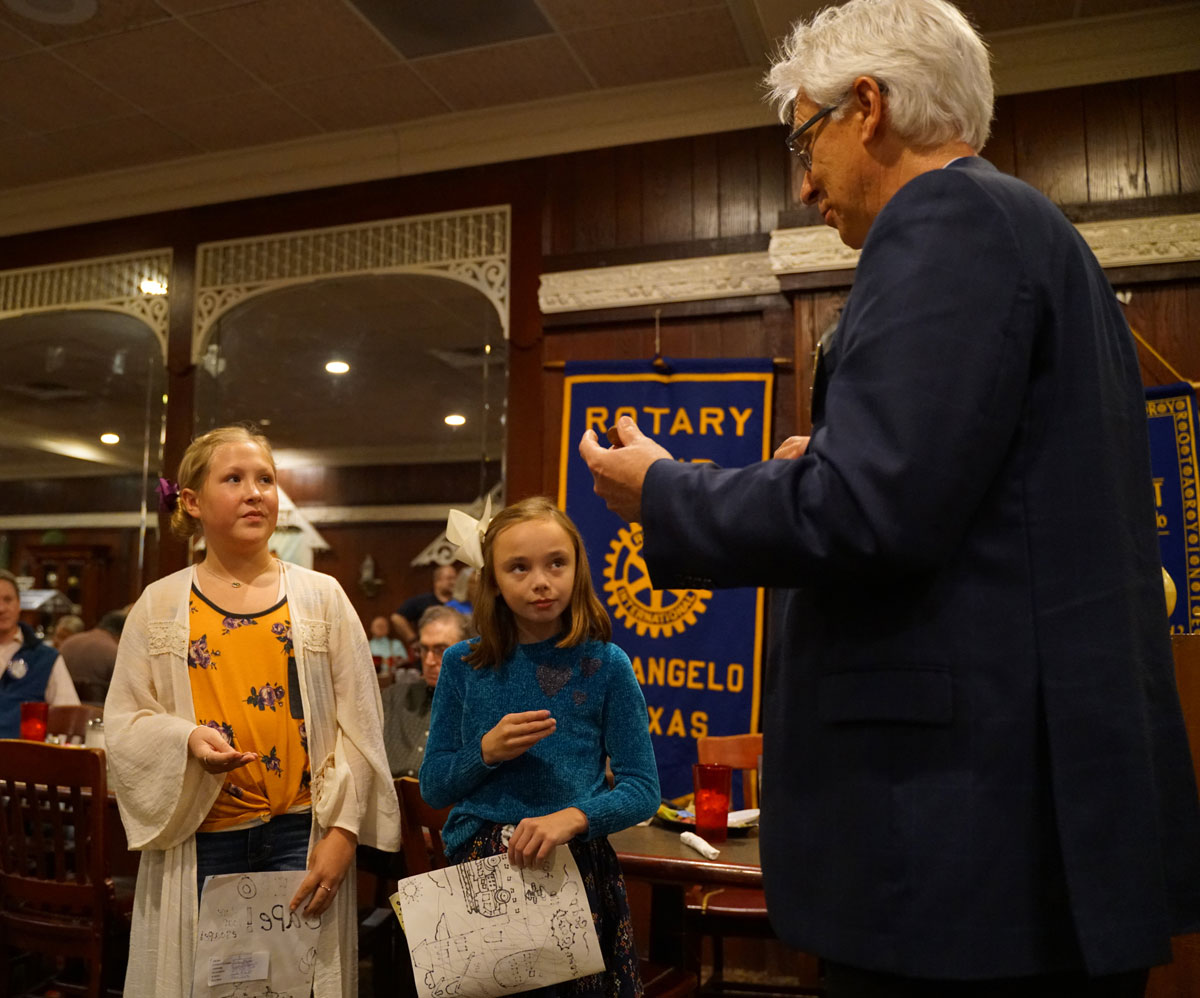 ABOVE: Jordon Munden and Mary Cathryn Darby receive the official Rotary coin from Rotary President Dr. Clifton Jones. (Contributed/Lorelei Day)
The fire poster contest is held in conjunction with Fire Prevention Week, Oct. 6 - 12.
All Winners of the contest were:
GRADE 3
1st Shang-En Huang from Fort Concho
2nd Lola Hogan from Santa Rita
3rd Sloan Cole from Fort Concho
4th Jaylynn Nixon from Fannin
GRADE 4
1st Mary Cathryn Darby from Santa Rita
2nd Victoria Bageant from Lamar
3rd McKenna Dane from Austin
4th Oliver Mensch from Lamar
GRADE 5
1st Jordon Munden from Santa Rita
2nd Adam Rason from Lamar
3rd Celes Cole from Fort Concho
4th Alina Lussow from Reagan
Get more stories like this by signing up for our daily newsletter, The LIVE! Daily.