San Angelo Museum of Fine Arts Announces $20,000 in Prizes for This Year's EnPleinAirTexas
SAN ANGELO, TX — The 2020 EnPleinAirTexas in San Angelo will offer $20,000 in prizes to invited artists. According to Barbara Rallo, the coordinator and co-chair for the event, artists from 12 states and one from the United Kingdom have applied online to compete so far.
The event will be held October 17-25 this year.
The EnPleinAir held in conjunction with the San Angelo Museum of Fine Arts provides sittings all around the Concho Valley for visiting paintbrush artists to, as SAMFA Museum Director Howard Taylor always says, "Paint us!"
The current event, or what is called a "convention" held every fall, has historic roots in the Concho Valley. In 1921, in Christoval, just south of San Angelo, local artists founded the Texas Artists Camp which grew to be one of the leading "plein air" gatherings in the Southwest.
During the fall event held over the past several years, San Angeloans will see painting artists at various locations putting their artistic expression to work illustrating various local subjects. For example, last year artists were invited inside Eggemeyer's General Store to paint subjects next to the antique Model T car on display there.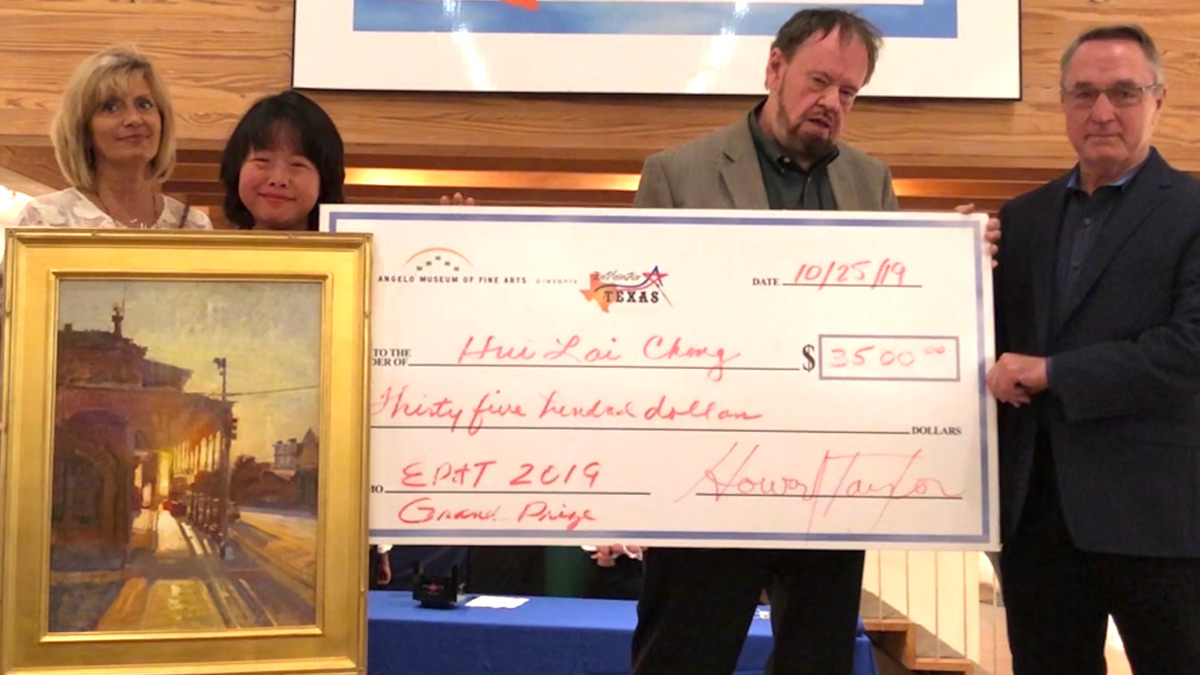 Above: EnPleinAirTEXAS Grand Prize winner in 2019: "Sunset on Block One" by Hiu Lai Chong. (EPAT Photo)
Artist Sara Linda Poly, who created the painting at the top of this page, was picked to head the selection process for this year's EnPleinAirTexas contestants. She will announce the roster of artists at a June 2 gala at the Museum with a screen presentation. EnPleinAirTexas is selling tickets to the event. Rallo promised that the presentation "will keep your attention until the last artist's name is revealed!"
Tickets to the gala are $50 each and proceeds go to the Museum and to finance EnPleinAirTexas activities. Dress is black tie, "artsy to cocktail." Tickets are on sale online here.
Other EnPleinAirTEXAS events scheduled for this year include:
The Water Lily Paint-Out on Tuesday, October 20, 2020
STAMPEDE Awards Party & Sale on Friday October 23, 2020
You don't have to wait until the fall for other EnPleinAirTexas events. Two workshops are scheduled.
Watercolor Workshop by 2019 EPAT "Spirit of San Angelo" Award-winner Richie Vios, April 27-29, 2020. Sign-up here.
Painting Skies, Clouds & Dramatic Light by 2020 EPAT Juror Sara Linda Poly. June 3-4, 2020. Sign-up here.
You can learn more about EnPleinAirTexas and sign-up for the workshops and events on their website.
Get more stories like this by signing up for our daily newsletter, The LIVE! Daily.